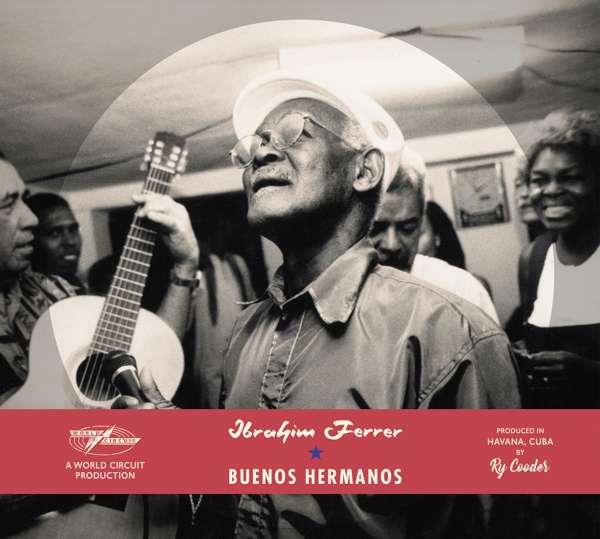 Ibrahim Ferrer - Buenos Hermanos [Special Edition] (2xLP)
In 2003 Ibrahim Ferrer released his second solo album 'Buenos Hermanos', an audacious and assured album, with varied repertoire including fresh takes on classic songs and thrilling examples of the romantic ballads and boleros for which Ferrer is justly famed. For this special edition release, producer Ry Cooder has gone back to the original mixes and added 4 previously unheard tracks, recorded at the original album sessions, to a brand new sequence – creating a completely reimagined 'Buenos Hermanos'.
Featuring Orlando 'Cachaíto' López, Manuel Galbán, Chucho Valdés, Angá Díaz, Jim Keltner, Ry Cooder and a guest appearance from The Blind Boys of Alabama.
This 180g double vinyl gatefold package includes new cover artwork featuring an alternative photograph from the original album shoot by Christien Jaspars, and a booklet with English and Spanish lyrics and a new foreword from Ry Cooder.
Tracklisting:
Boquiñeñe
Música Cubana
Boliviana
Me Voy Pa' Sibanicú*
Buenos Hermanos
Mil Congojas
Ojos Malvados*
Guaguancó Callejero
Hay Que Entrarle a Palos a Ése
Perfume De Gardenias
Como El Arrullo De Palma
Mujer *
No Tiene Telaraña
Ven Conmigo Guajira*
Naufragio
Fuiste Cruel
Oye El Consejo
previously unreleased tracks from original album sessions
"Ferrer is on stunning form, coaxing endlessly subtle nuances from a set of finely crafted original songs… heavenly." – The Guardian ****
"The Cuban maestro has hit top form." – Q ****
"a stylish vocalist, possessed of a wonderfully nuanced interpretive gift" – Billboard
"A classic from top to tail." – MOJO ****
"an excellent bolero singer" - The New York Times
"Ferrer was not only the last of the great son singers from Cuba, but he was also a one-of-a-kind vocalist—a carefree performer who can move audiences with innate grace and style." – Newsweek
"Nicknamed the Cuban Nat King Cole for his soft and calm voice whose light vibrato was well suited to sentimental melodies." – Le Parisien