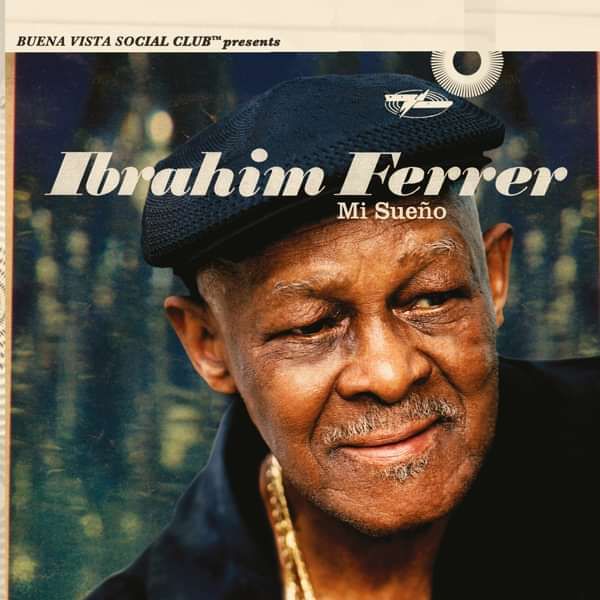 Ibrahim Ferrer - Mi Sueño (LP)
A decade after the Buena Vista Social Club propelled Ibrahim Ferrer to international stardom, the Cuban singer's farewell album reminds us of his incredible charisma, his supreme polish, and his disarming warmth. Mi Sueñocelebrates Ferrer's first musical love — the romantic, tenderly rhythmic bolero style, which has been famously described as "a ballad with a little black beans on the side" — and proves again that Ferrer, who died in 2005, was one of the world's most enchanting bolero singers.
The music benefits from the sympathetic, eminently stylish support of a core band of Cuban masters: Roberto Fonseca on piano, guitarist Manuel Galbán, bassist Cachaíto López, and drummer Ramses Rodríguez. On the stately "Cada Noche Un Amor," for example, Ferrer sings with poignancy and restrained passion, while Fonseca and Galbán each offer exquisite, delightfully understated solos. "Si Te Contara" and "Quiereme Mucho" boast lush and lovely string arrangements that fit the muted mood perfectly, while "Uno" and "Copla Guajira" add subtle clarinet shadings.
Perhaps most stunning is "Convergencia," where Ferrer manages to be both plaintive and uplifting, with only Fonseca's piano musings behind him. "Melodía del Río," written by the late Rubén González, is a leftover from Ferrer's solo debut and features the composer's masterful touch on piano, and "Quizás, Quizás" is a heart-tugging duet with Omara Portuondo.